December 31, 2004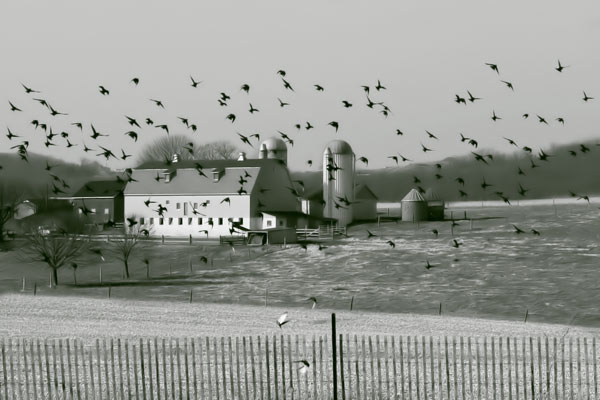 Happy New Year!
I don't usually say much in this space because I want everyone to interpret these photos in their own, unique way. But at the start of the New Year, I thought I'd bring up an issue that's central to what I do here: saving our farmland.
The loss of our farmland to urban sprawl is accelerating at an alarming rate. In the United States, we're losing 1.2 million acres of farmland each year to development.
Where you once saw pasture and crops, the horizon is covered with rows of townhouses, golf courses and "big box retailer" malls whose lights are visible in the night sky for many miles.
Once we put pavement, houses or malls over our farmland, it's gone forever.
Farmers have the right to sell their land to whomever they wish – it's their retirement in many cases – but if communities make it worthwhile for farmers to put their land into preservation, everyone wins. It boils down to survival: physically, we need the food and clean water that comes from our farms and undisturbed watersheds, and spiritually, we need the beauty and variety, and the touch of poetry that exists in such places.
What can you do? Three simple things, when and where possible:
1) Vote for and support open space initiatives and programs.
2) Buy your food directly from the farmer at farmers' markets and farm stands. It's like buying a CD directly from the singer – the profit stays where it belongs. You can also ask your grocery store, cafeteria or favorite restaurant to buy fresh local fruits, vegetables and meats.
3) Contact your elected leaders. Make your voice heard.
A final thought: In this era of urban sprawl, disappearing farmland and vanishing wilderness, there are still opportunities, many of them in our own backyards, to see creatures and plants in their native habitats, witness breathtaking sunrises and sunsets, view magnificent landscapes, and imagine life as it used to be. Nature, simplicity and beauty are in every neighborhood, in some form, if you take the time to find them.
Wishing all of you the very best in 2005!
Kathleen